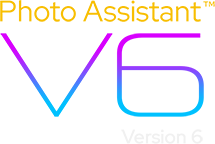 Auto dealer
merchandising magic.
Photo Assistant is a powerful labor-saving, workflow-maximizing, keep-you-on-track merchandising software and service system. If your dealership is in a race to photograph your cars every month, Photo Assistant™ is the car and Dealer Image Pro™ is the driver.

Photo Assistant™ is a new approach to
capturing your inventory.
Photos take your cars to market online. By taking your photos in-house, you are
maximizing your time-to-market. By leveraging photo software,you can turn your
dealership photographer into a car-shooting machine.
Patented wireframe technology
Our patented wireframe guidance system ensures perfect merchandising and keeps
your photographer on track for the best results. All content is uploaded on the
fly — from there, it's hands-off for your dealership.

Never miss a shot.
Perfect photos on every VDP.
On-screen guidance leads your photographer through any vehicle in the fastest possible route. Wireframes for every photo enforce consistent compositions and create flattering angles so your customers have every piece of a vehicle they need to make an informed buying decision.
Place the vehicle within the lines, shoot it, upload it — it's that easy.
We have guides for all body types & models for:
And the result? Every vehicle on your SRP lines up perfectly and every VDP looks nearly identical.
Bring your cars to life.
Perfectly produced videos
on your VDP in minutes.
Our video guides are strategically placed between photo guides to make capturing clips easy. After uploading, your video clips are stabilized and stitched together with a voiceover unique to that vehicle. The result is a professionally produced video that automatically appears on your VDP and YouTube page in about 10 minutes.
Listings with video receive better rank and optimized search results. Put your vehicles in motion and let your customers truly familiarize themselves with your inventory from the comfort of their home.

Exterior 360s
Interior 360s​
Exterior 360s
Exterior 360s – Take a virtual lap around the car
As your photographer walks around capturing the 360° of a vehicle, Photo Assistant™ stabilizes your footage and creates a seamless spin. Your customers can build a sense of ownership by virtually walking around a vehicle before they even arrive at your dealership.
Interior 360s​
Your cars have met their match.
With new car cloning, never shoot the same car twice.

Patented wireframe technology
Already shot a new car exactly like this one?
Just scan the VIN and Photo Assistant alerts you to potential matches. If you confirm a
perfect match, just shoot the VIN and Moroney of the car in front of you, and Photo
Assistant does the rest.
It's just another way Photo Assistant saves you time and gets more cars online.
Organize your day.
A to-do list in the palm of your hand.
Stop wasting time. A live inventory list in your photographer's hands gives them everything they
need to get the job done quickly. With the ability to filter vehicles without photos, Photo Assistant
minimizes time spent trying to figure out what needs to be done.